Artist Statement:
As humans we are fascinated by the ocean. There is such beauty in its calming presence, powerful momentum, and unpredictable force. Water inspires, intimidates, and humbles the human spirit. It creates peace and wonder all at the same time speaking to our sense of taste, touch, and hearing. You can't help but elicit an emotional response that is separate from our cognitive or rational thinking. I see the ocean as a symbol of life, my journey, struggles and triumphs. In high tides and low tides, the rhythms of life teach us that every moment is valuable and the hard times give us the gift of perspective. The ocean can be turbulent and chaotic but also reminds of the fragility of the natural world.
As tumultuous as the ocean can be, it is still a place I seek a great deal of comfort, peace and connection in. The instant I am near water or hear waves, I've left the mundane behind and entered a blue-green world of tranquility where everything is quiet and fears and time don't exist. One of my favourite things to do is close my eyes and float on top of water, letting my breath and the salt hold my whole body up. It gives me a rare moment to escape the hyper connected, over stimulated modern state of life and enjoy the solitude and splendor of nature.
Now if I could entice you to join me in a fascinating mind-spirit exercise. Close your eyes and take a deep breath while I take you to a place of comfortable isolation. In your mind's eye, picture the sea. What comes to mind for you? Is the water alive with an alluring and completely inviting sensation of colour, maybe a vivid green and blue as in the South seas or is it perhaps a more subdued but powerful grey green palette of the Pacific Northwest? Can you feel the water rushing over your skin? And what about the wind in your face and the aroma of the sea air? Now you start to float, the ocean salt water is keeping you buoyant on the surface. Take a few moments to be at peace, emptying your mind of all else except the vastness and depth of the ocean. Now open your eyes and enjoy the world of peace and tranquility as seen through the mind of the spirit itself, your spirit, your mind, yourself. It is my hope and desire that my paintings will take you to an enchanting place by allowing you to connect to your inner soul and escape to the beauty of the ocean. I promise if you take a few moments to open your mind and allow yourself to "be" with the painting, I will take you there.
Let me show you the Sea in Me…..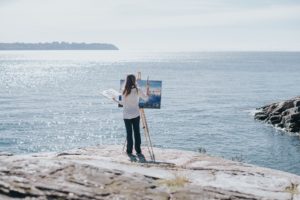 September 1st to 30th
Plaskett Gallery– 735 8th Avenue, New Westminster
FREE – Open Tuesday to Friday, 1pm-5pm. Saturday 1-4
Gallery visits are by appointment only. Enjoy art with your bubble! Make your appointment ONLINE . Visits are 30 minutes in length. Maximum 10 guests in gallery at any time.
Contact us if you would like to visit the gallery outside the appointment hours.