Join curator/host Cassius Khan and a variety of highly accomplished musicians and tea specialists as they immerse you in the cultures of the world, bringing you conection to generations past through songs and experiences that have endured for thousands of years.
On May 8th, renowned Chinese musician Lan Tung is the honoured artist for an illuminating afternoon of music and refreshments. This event is free and welcome to all.
Lan Tung 董籃  – erhu (Chinese violin) performer & vocalist; composer & producer; artistic director
Crossing between new music, improvised music, and world music scenes, Taiwanese Canadian Lan Tung is the founder, artistic director, and resident composer of various cross-cultural projects, such as the JUNO nominated Orchid Ensemble, the Sound of Dragon Ensemble, Vancouver Erhu Quartet, and Proliferasian. She is the founder/artistic director of the biennial Sound of Dragon Music Festival that showcases innovative projects and facilitates collaboration. She co-leads Naadaleela Ensemble (fusing Taiwanese, Chinese, Indian, and Persian traditions with jazz and other influences) with Curtis Andrews, collaborates with cellist Marina Hasselberg in Have Bow Will Travel, with Ron Samworth and Neelamjit Dhillon in Birds of Paradox, with Liron Man and Jonathan Bernard in Lalun. Lan performs regularly with the Vancouver Inter-Cultural Orchestra, Sounds Global Ensemble, BC Chinese Music Ensemble, and the NOW Orchestra (improvised music). Lan has toured internationally and appeared as a soloist with Orchestre Metropolitain (Montreal) and Symphony Nova Scotia, and as a soloist/composer with Vancouver Symphony Orchestra, Turning Point Ensemble (Vancouver & Taiwan), Upstream Ensemble (Halifax), Vancouver Inter-Cultural Orchestra (Canada & US), Atlas Ensemble (Amsterdam & Helsinki), and Little Giant Chinese Chamber Orchestra (Taiwan & China).
Lan Tung's music often experiments with contradictions by fusing materials from different traditions and genres, such as the sense of breath/space from Chinese music, the rhythmic intricacy from Indian influence, the precision in contemporary compositions, the space for interpretation with graphic notations, as well as melodic or textural improvisation. Lan's compositions and performances are released on numerous CDs, winning International Independent Music Awards and multiple nominations by JUNO, Canadian Independent Music Awards, Canadian Folk Music Awards, and Western Canadian Music Awards.
Lan has worked in various interdisciplinary projects as a composer, performer, and/or producer. Past collaborators included Wen Wei Dance, TomoeArts (dance theatre), Aeriosa (aerial dance, Chimerik (multimedia), Moving Dragon Dance, Mozaico Flamenco Dance, Pangaea Arts (theatre), and Flicker Arts Collaboratory (media arts). In contemporary music, Lan has premiered numerous chamber, solo, orchestral and electroacoustic compositions, working with Canadian composers Tim Brady, John Oliver, Hope Lee, Edward Top, Moshe Denburg, Mark Armanini, Jin Zhang, Janet Danielson, Barry Truax, Dorothy Chang, Steve Chatman, Rui Shi Zhuo, Jordan Nobles, Neil Weisensel, Paul Plimley, Yawen Wang, Farshid Samandari, Michael Vincent, Nova Pon, and Grace Lee.
Lan started to learn the erhu at the age of 10 and went to the Chinese Music Department at Taiwan's Chinese Cultural University. With the support of the Canada Council for the Arts and the BC Arts Council, she has studied graphic score with Barry Guy in Switzerland, improvisation with Mary Oliver in Amsterdam, Hindustani music with Kala Ramnath in India, Uyghur music with Abdukerim Osman in Xinjiang, and Mongolian horsehead fiddle with Bayar in Hohhot, China; as well as making multiple trips to perform with improvising musicians in Germany, Switzerland, and the Netherlands. At the Vancouver Creative Music Institute (2007-2009), she has studied and performed with Han Bennink (Holland), Barry Guy, Evan Parker, John Butcher (UK), Francois Houle, Paul Plimley…etc.
Lan has been a featured soloist at Musica Nova Festival (Helsinki), National Concert Hall (Taiwan), Festival de Morelia (Mexico), Place des Arts (Montreal), and the Chan Centre for the Performing Arts (Vancouver); and as a leader of her ensembles at Esplanade – Theatre on the Bay (Singapore), the Kennedy Centre for the Performing Arts (DC, USA), National Arts Centre (Ottawa), Festival International Musique Actuelle Victoriaville, Festival Miami, Vancouver International Jazz Festival, Vancouver International Folk Festival, Ding Yi Chinese Chamber Music Festival (Singapore), Ottawa Folk Festival, Ottawa Jazz Festival..etc.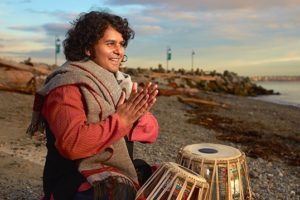 About Cassius Khan
Canada's most recognizable Indian Classical musician, the globally renowned Cassius Khan is a performer of combining the Classical styles of Ghazal/Thumri singing and the Tabla, the North Indian pair of drums and presents both, simultaneously. He is the senior disciples of the late Malika e Tarannum Mushtari Begum (Dec 25th 1934-March 14th 2004) and Tabla maestro Ustad Rukhsar Ali, who belongs to the Delhi Gharana of Tabla playing. Combining Indian Classical singing with Tabla, for a single artist, is a first in Indian classical music. Many noted Indian Classical Music gurus have proclaimed that singing and playing Tabla in unison is a difficult feat to master as Tabla playing requires skill and strength, as well as an absolute concentration on the kaleidoscopic rhythm patterns of the repertoire, and singing requires absolute skill in the execution of notes and vibrations of the voice and excellent breathing control. Khan's trademark is performing the extremely rare and difficult "Tarannum Ang Gayaki style" in which the lyrics share a different metre from the rhythm but they join at the Sum point in a certain phrase.
This event is free and welcome to all.
Presented with the support of the City of New Westminster, Province of British Columbia, BC Arts Council and Metro Vancouver